When he realized that more than one in four working people in France were in the red every month, Riadh Alimi created Finfrog, a microcredit solution between individuals. The fintech uses Powens' API to help individuals cope with unexpected events and finance their projects simply and quickly. 
The need: a cost-effective credit solution for urgent needs 
More than 10 million French end up in the red every month. The average monthly overdraft amount is €360. To this are often added bank fees, which further degrade the budget of the person concerned, and which can amount to up to €45. 
Moreover, freelancers, workers on set-duration employment contracts, temporary workers and the self-employed generally do not have access to the credit offered by the traditional system. They have no solution in case of an emergency. 
Finfrog wanted to solve this dual problem, thanks to a micro-loan offer. From 10 to 15 times cheaper than a bank overdraft, they are suitable for everyone, and everyone can find a financing solution adapted to their needs. Finfrog uses Bank, Powens' banking aggregation product, to validate credit applications. 
The solution: micro-credits available in 24 hours thanks to banking aggregation
The loans offered by Finfrog vary between €100 and €600 and are repayable in 3, 4 or 6 monthly installments. Costs are transparent with no bad surprises. The cost of a loan with Finfrog is on average €3 per month, ten times lower than the average monthly cost of overdraft bank charges. 
Fintech shortens the loan journey of borrowers: customer journey 100% online, application made in less than 5 minutes and credit decision given in 24 hours. To offer such a fast response, Finfrog relies on its proprietary technology, the result of several years of R&D. Based on a machine learning scoring algorithm, the solution establishes the creditworthiness of a potential borrower based on quantitative and objective criteria. 
In addition, Finfrog uses Bank to connect to borrowers' bank accounts and view their last 3 bank statements. This enables them to establish a credit score.
"Connecting to our customers' bank accounts, thanks to the Powens API, is central to our scoring model. This enables us to obtain reliable, real-time, tamper-proof information and notify our loan decision to the customer in less than 24 hours." – Riadh Alimi, Founder and CEO, Finfrog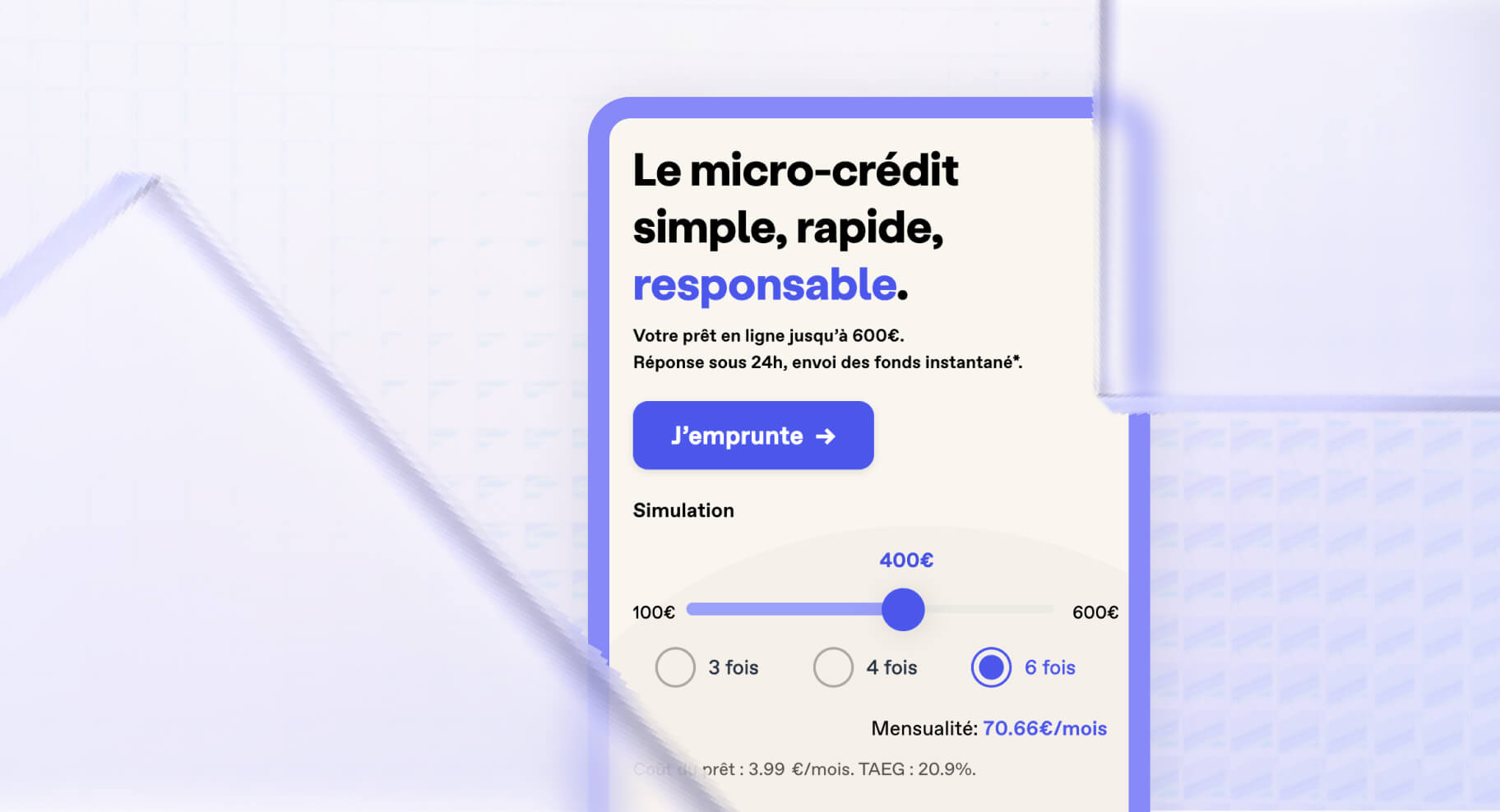 The results 
Finfrog stands out through its simplicity, speed and accessibility. Banking aggregation makes it possible to shorten the loan application journey and offer a reply in less than 24 working hours. In 2022, 80% of clients received their funds in less than 5 minutes on their bank account after signing their loan agreement online. 
Figures: June 2022
24 hours

for the credit decision

More than
€200,000

in loans granted since 2016

300,000+

users

80%

of users receive the funds within 5 minutes
With 300,000 users and more than €200,000 in loans granted, the fintech company raised funds of €30 million in June 2022 (€10 million in capital and €20 million in debt). This will enable it to move from 25 to 40 employees in the short term and to continue its development to help citizens cope with the unexpected in both France and across Europe. 
Do you want to revolutionize credit?
Schedule a demo