A customer favorite is back by popular demand, there's a new way to view in Webview, and we're presenting a feature whose release went under the radar!

Our
Categorize
feature is reborn!
We're excited to announce the release of a brand new, entirely overhauled transaction categorization feature.
Following critiques of our old engine, our engineers have been hard at work rebuilding it from the ground up. Now called "Categorize by Powens", the new version is available today on personal accounts for French customers.
What's under the hood?
Categorize serves 3 major purposes for customers when aggregating data: 
It classifies raw banking data into detailed spending and income categories
It allows customers to build robust spend management analyses for their users 
It opens the path to proactive, smart budgeting features, including limits, alerts, borrowing power, targeted savings/investment strategies, and more!
The reinforced Categorize provides granular, in-depth parent and sub-categorization. This grants customers the ability to implement a wide array of use cases.
What this means for users
Advantage 1: Budget and savings analysis
Analyzing the spending habits of consumers allows customers to build "spending profiles" that grant relevant insights into how they spend; most notably, compared to users with similar revenue profiles. Customers can now identify savings opportunities easily, which can help them drive their users into healthier spending habits.
Advantage 2: Investment
For starters, good wealth management depends not only on having good data but also on recognizing income/spending trends to determine the disposable income that users can reallocate to more relevant investment products. This makes long-term investment planning a cinch!
Advantage 3: Loyalty programs
With the new Categorize, it is far easier for businesses to offer personalized loyalty programs, based on user spending habits. With a breakdown of categories, such as "entertainment" or "food", each user will receive notifications about items they personally find relevant.
The new Categorize is another example of our commitment to offering our customers the very best and the latest in Open Banking. You can start taking advantage of this feature today!
WYSIWYGing it!
Making your
Webview
experience a sight to behold
We've seen that customers are already fully enjoying the many features that we've added to our Webview console recently. While each update makes for an overall better user experience, we realized that, ironically, adding more features presents a different type of challenge for users: a lack of aesthetic appeal.
Let's say you log into the console and you set up your API. No problem there. But, wouldn't it be nice to have an easy way to visually distinguish each app from the others?
Well, starting now, what you see is what you get (WYSIWYG)!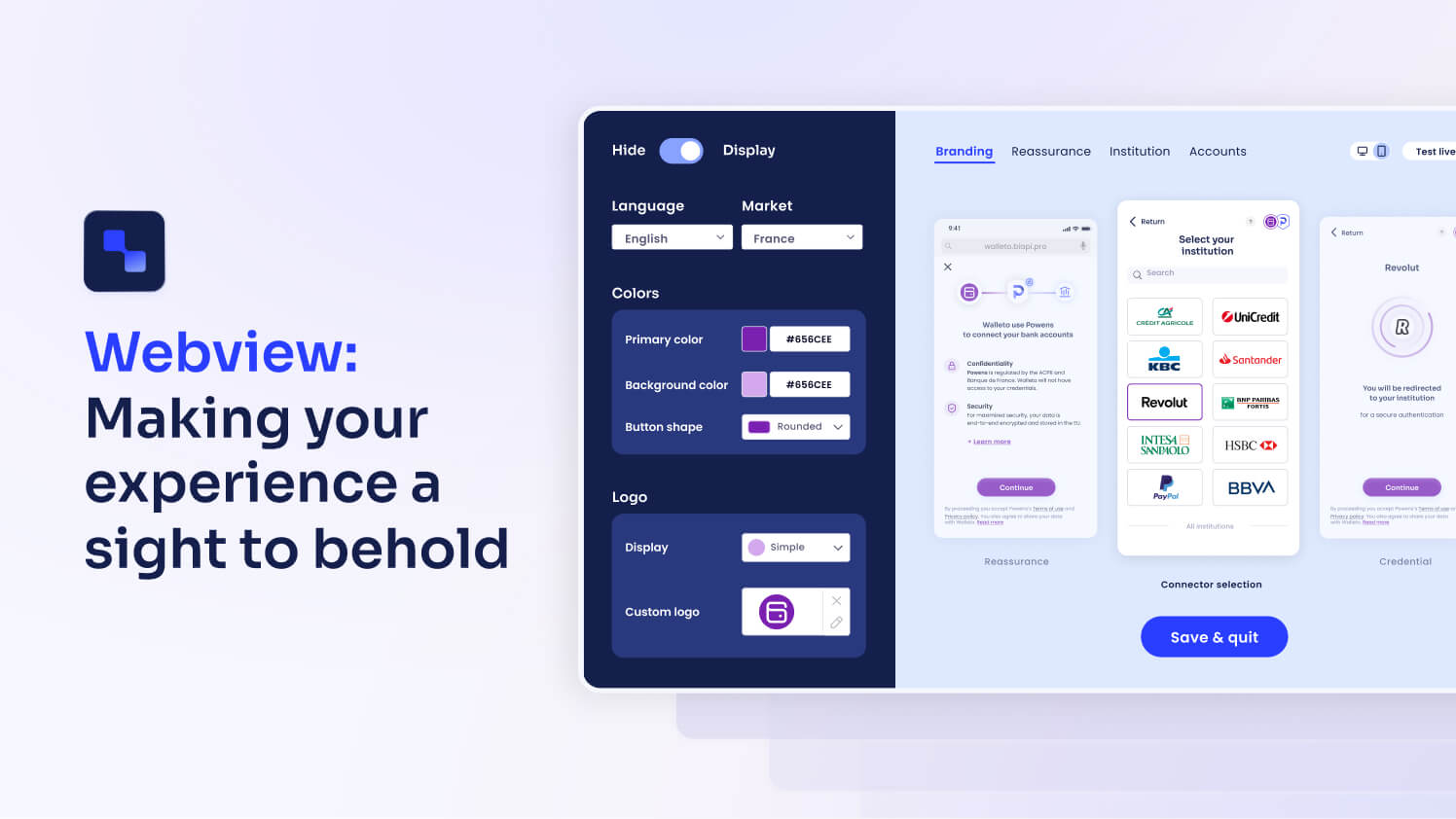 WYSIWYG is an added visual effect that will help users see the settings changes they make in Webview. Add different backgrounds and accent colors to each new app you configure. You can also configure the button shape as well as the display for the connector list.
This might seem like a little, but trust us, it's a lot! We've been testing the new feature and feedback has been great! Even better, we have more new WYSIWYG features on the way. We encourage customers to log in and see it for themselves.
Initiate recurring

payments!
An added feature that saw little fanfare deserves the spotlight
The freedom to transact is essential, but that doesn't make it easy. Keeping track of multiple payments scheduled at different times can quickly become a nuisance, leading to the potential for confusion and errors. Pay by Powens has made moving money and making payments simple for over two years, but we made it even simpler earlier this year with our new recurring payments feature.
Recurring payments offer a clear advantage. You can streamline your payment processes for a hassle-free experience that removes the risk of getting lost in the never-ending maze of manual processes and bookkeeping. With recurring payments, you can rest assured that payments are made automatically and on time, freeing up your time to focus on other important tasks.
It's time to save time with recurring payments. And you can start today!
Specify an amount, a frequency, and an end date, and our API will generate a payment request instantly. It's that easy.
Once recurring payments are initiated, the bank creates instances of recurring payments according to the provided schedule and without the need for the end user to validate the execution. The feature is currently available for accounts associated with Banque Populaire, Caisse d'Epargne, Crédit Mutuel, CIC Banque, LCL Banque, Société Générale et Boursorama.
Stay in
sync
In the movie Superman II, everyone's favorite superhero makes the difficult choice of temporarily giving up his powers. Ok, whether Superman is everyone's favorite superhero is up for debate, but what's not up for debate is how the superpowers of Powens revolutionize Open Finance. As such, it would be a shame for your customers to find themselves in Superman's position, and potentially lose the superpowered advantages our solutions provide!
So, to help our customers, and most of all, to help our customers' customers, we've introduced a feature within Bank Product that streamlines the process for end users to reapprove customer consent. It's fully compliant with the revised Payment Services Directive (PSD2) and follows Strong Customer Authentication (SCA) two-factor authentication guidelines.
How does it work? 
You now have direct access to your customers' precise authorization expiration dates via our API. Armed with this information, you can strategically determine when and how to alert customers about their impending consent renewal. This not only ensures continuous benefit from your services for your customers but, on a broader scale, significantly contributes to customer retention. It's yet another of the many ways we continue to provide you with the very best that Open Banking has to offer
Don't miss

out
Now's your chance to benefit from Open Banking. Contact us today and one of our specialists will be in touch shortly. It's never too late to start the journey to better customer service and innovative payment solutions for your business.