Pay for purchases in several installments: a quarter of the French use this type of payment, for an average of 4 purchases per year. However, until Joe, customers could only use this payment method if the merchant offered it. This is now no longer the case thanks to the app: it enables the user to pay for purchases in several installments without the intervention of a merchant or bank. This solution is made possible by Powens' Open Banking technology and Bank product. 
The need:
make split payments more accessible
, in a totally independent manner
Split payments, or Buy-Now-Pay-Later, is becoming increasingly popular. More and more merchant sites offer this method of payment. French consumers love it since 44% of them have already used it. 59% of them are even prepared to change stores to benefit from it*. 
Only downside: this payment method is mainly available for B2B2C transactions. The result being: that if the merchant site does not offer it, it is difficult for the consumer to have access to it. Few French banks offer it, given the credit risk and implementation difficulties. When it does exist, the user experience takes a hit. Users must be patient and prepared to sign a long paper contract. 
That's why Kevin Ohana and Yohan Elbase created Joe, to open up access to BNPL. The B2C app uses Powens' technology to enable consumers to pay for any expense in several installments and they do this by themselves with total independence.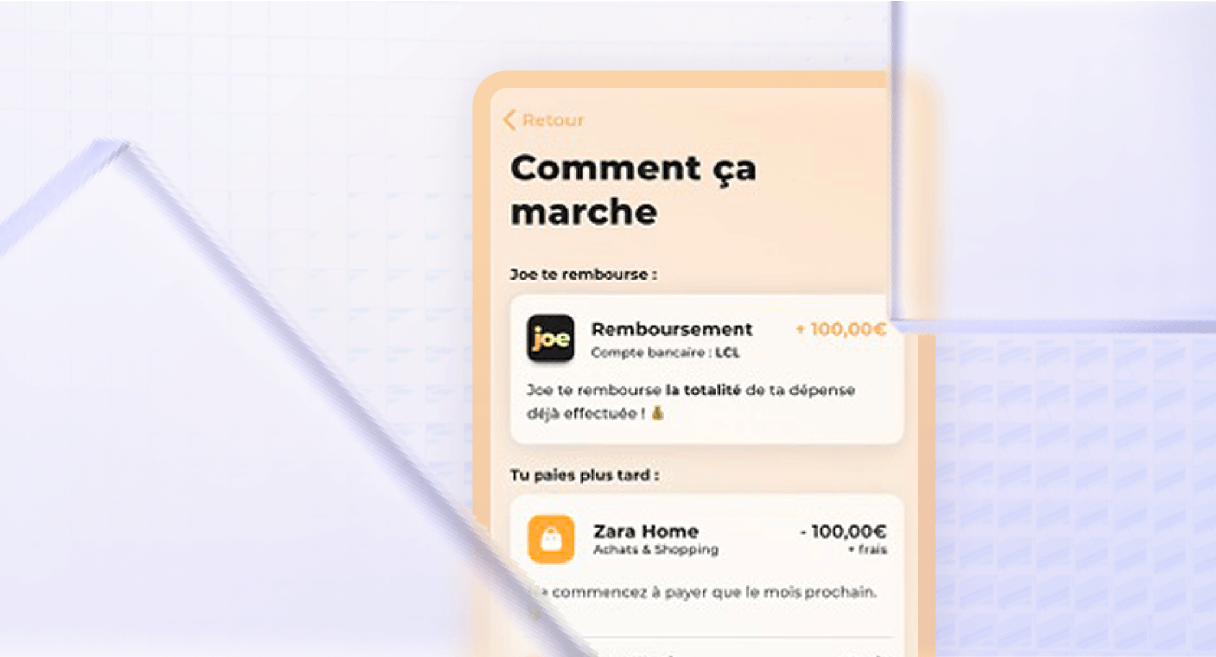 The solution: use banking aggregation
to assess consumer eligibility
With Joe, any purchase between €100 and €3,000 becomes eligible for payment in 3 installments. Even purchases made over the previous 30 days can be eligible. 
Users download the Joe mobile app. 

They

link up their main bank account by means of Powens' Bank

product. 

The

data from banking aggregation

enables Joe to determine the customer's credit score in real time. Based on this analysis a certain sum of money is placed at the disposal of the customer. This sum takes the reimbursement capabilities of each customer into account.

When consumers use their credit card to pay for purchases, the application sends them a notification offering them the possibility to pay in several installments. If they accept, Joe instantly reimburses them for the amount of their purchase. 

The customer pays for the purchase in 3 installments over the next 3 months. 
Unlike traditional solutions, Joe is a 100% online app available in just 2 minutes. Thanks to data aggregation using the Bank app, users do not need to upload documents or ID.
"Powens' bank account aggregation technology is central to the way we operate. It enables us to provide essential features to users when they use our application, while limiting risks. We can accurately determine the customer's borrowing capacity and creditworthiness in seconds."
Kevin Ohana, Co-founder and CEO, Joe 

The results 
Whether consumers need to cope with an unexpected event or make a dream come true, Joe is the financial boost they need. The app has become very popular since its launch in February 2021. In 3 months, it had won over more than 15,000 users. This success is explained in part by the macro-economic context. With the health crisis, the purchasing power of French consumers has declined and the desire to spread out their payments over several installments is stronger than ever. 
Figures: April 2021
15,000 users in 3 months
100,000 users in one year
€500,000 in buy-now-pay-later requests in 3 months
Joe's team doesn't plan to stop at that. Joe's ambition is simple: become the reference player in B2C BNPL payments. 
Do you want to tap into the potential of Open Banking?
Schedule a demo 
*https://www.usine-digitale.fr/article/deux-tiers-des-jeunes-francais-utilisent-le-paiement-fractionne.N1788042