Working Together to Enhance Supply Chain Efficiency and Financing Solutions


Getting your business
where you want it to be
So, you're a small business looking to scale your operations. Hard at work every day, you're making gains little by little, but exponential growth has alluded you. Every guru has an idea of what to do next, but you just need something simple that can improve your operations and take your business to the next level.
Everything detailed above is a common occurrence in business. Save the few times when a business shoots to the moon, at some point, most SMEs deal with the daily grind of hard work and little growth. Yes, slow and steady wins the race, and you want your growth to be sustainable, but that shouldn't prevent you from wanting better results than you're getting today.
A wholesaler

with pain points and promise

Let's take a look at the journey of a wholesaler SME in the IT sector. The company was able to obtain the short-term financing for stock and the security they needed for their supply chain thanks to Powens and our client Leano.
The company's pain points were all too familiar: a lack of visibility on available financing solutions, countless hours wasted searching for options, and processes that involved multiple different platforms. Facing these issues, the company found itself lost in a sea of fragmented information and time-consuming procedures.
Their fortunes changed when they discovered Leano, a comprehensive business lending platform that provides personalized financing tools for payment and invoice tracking, and assesses client activity to offer tailored financing options according to company needs.
Becoming one of Leano's clients provided the wholesaler with a 360° vision of French and foreign financing solutions, all in one place. This operational leg-up is thanks to Leano's integration of Bank by Powens.
What

Bank by Powens

does for Leano
Leano needed a solution that could provide accurate, real-time data, which would allow them to better assess their clients' activity to optimize their outlook. This brought Leano to Powens. Using our Bank solution, Leano can provide clients with financial flexibility. This includes easier processing for invoices, optimization of cash flow, expedited payments, and management of supplier repayments to avoid stock shortages. Each action is based on up-to-date account and transaction data. By harnessing the power of Open Banking through Powens, Leano empowered their client to obtain and manage financing seamlessly, which optimized their operations.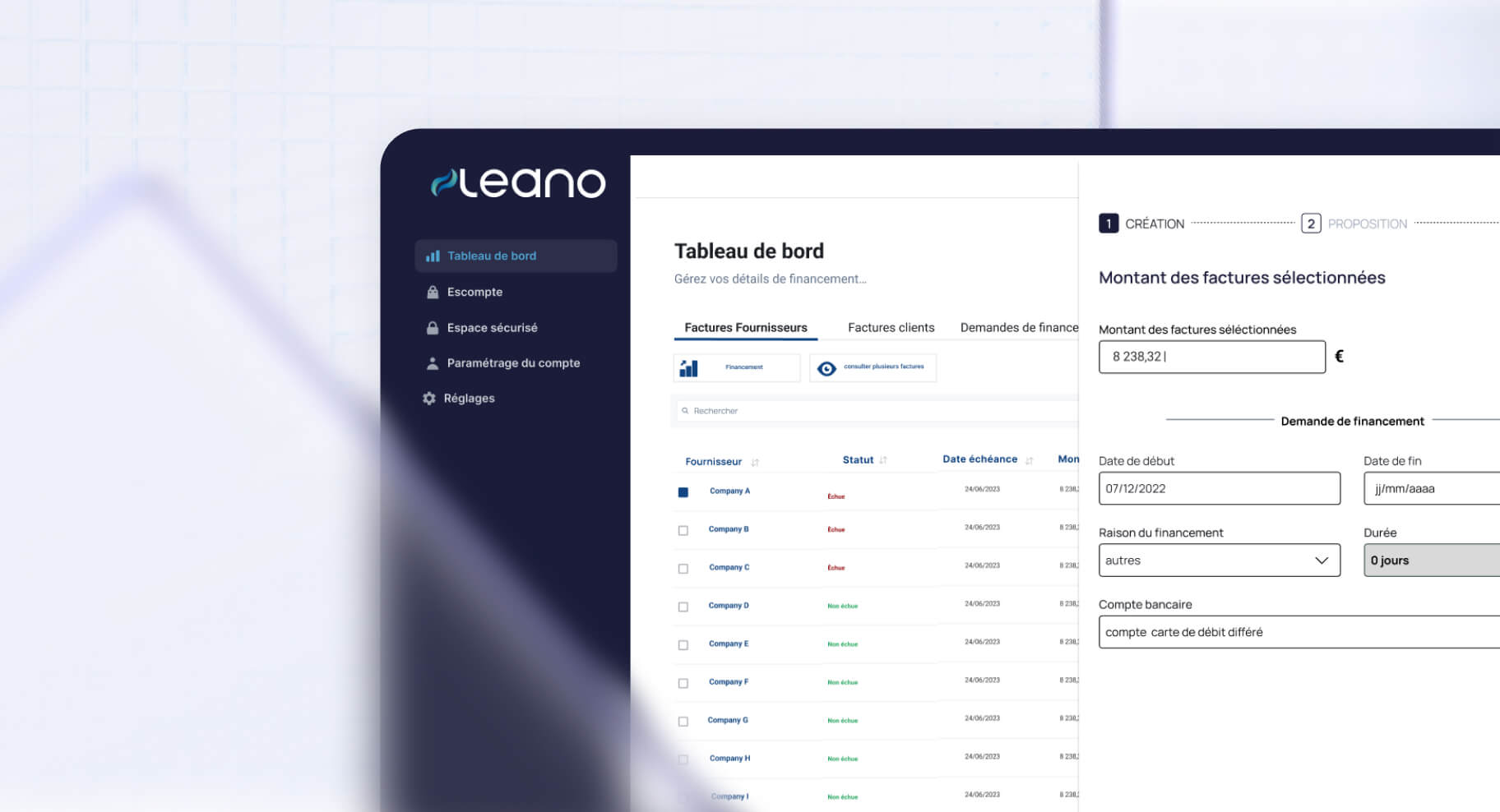 What are
The

Results?
The impact of two transformative solutions working in conjunction was the Hail Mary play that saved the day. The wholesaler experienced exponential growth. With Leano's comprehensive financing options at their fingertips, they achieved three times their previous revenue figures, propelling them to new heights within the industry.
But it didn't stop there. The integration of Powens' Bank API into Leano's platform unlocked a world of efficiency for the company. Processes that once took hours were now completed six times faster, freeing up valuable time for core business activities. Here's how this growth was achieved:
Through Automated Matching, Leano swiftly matched their client's financing needs with lenders based on cashflow information. These data were obtained through Bank from Powens.
Next up was Comprehensive Offerings. After matching the wholesaler, the lender offered various financing options based on the wholesaler's performance data. At the same time, the wholesaler saw which offers best suited them and how to adjust their business accordingly based on the same data.
Once an offer for funding was accepted, Streamlined Workflows allowed the two parties to interact seamlessly on Leano's platform.
Finally, every above step included AI-driven Insights, which highlighted optimization opportunities to predict future business needs while addressing certain needs automatically.
No longer burdened by manual data entry or file management across multiple platforms, the wholesaler could then focus on what mattered most: serving their customers while growing their business and clientele. As a result, they secured over €500k in financing for stock for their customers in record time. This achievement solidified their reputation as a leading, reliable partner within the IT sector.
What this means

for you and your business
By embracing Leano's innovative business lending platform and harnessing the power of Powens' Bank solution, the wholesaler was able to grow faster and larger than previously projected. Choosing Open Finance made all the difference. It was a catalyst for change and success.
This is one of many cases provided by Powens. Let your company be next. Complete the form below and one of our experts will be in touch to introduce you to Open Banking with superpowers.
Tap into the power of Powens'
Open Finance platform today
Contact our team today to schedule a demo of our Open Finance products and services.